Cathedral of La Laguna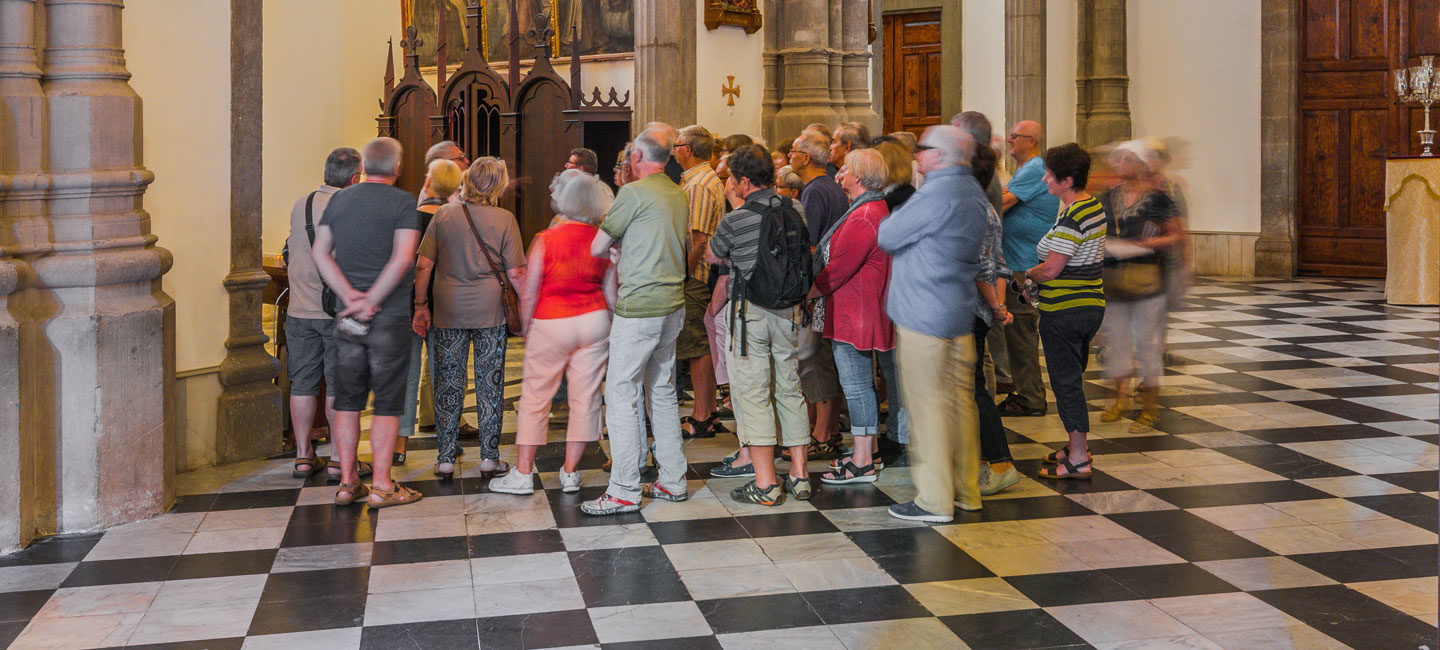 Address
Cathedral of La Laguna
Plaza de Nuestra Señora de los Remedios, s/n
38201 San Cristóbal de La Laguna,
Santa Cruz de Tenerife (Spain)
Public Visit Coordinator
Sergio González
sergio@artisplendore.com
Telf. 681 197 236
Pastoral and worship
Telf. 922 259 130
Entrance prices (with audio guide included)
You can acquire your ticket directly at the door of the Cathedral
(available for sale online soon).
· GENERAL → 6.00 €
· SENIORS above 65 years of age → 5.00 €
· GROUPS more than 15 people → 3.50 €
· STUDENTS from 13-18 years of age (university students up to 25 years of age) and unemployed → 4.50 €
· PEOPLE WITH DISABILITY equal to or greater than 33% → 4.50 €
· FREE residents in Stª Cruz de Tenerife, people with disability (>63%) and children under 13 years of age → FREE

* FREE entrance does not include the audio guide.
Schedule of the visit
Monday to Friday
9:30 → 18:00
Saturday
9:30 → 12:30

Cultural visit
Next, we´ll recreate the interior of the Cathedral so that you can see the different points of interest included in the audio guide.
Hover your cursor over the numbers to see the corresponding image and click to expand the information.
01.
WELCOME
02.
CHAPEL OF SAINT BARBARA
03.
CHAPEL OF OUR LADY OF MOUNT CARMEL
04.
CHAPEL OF SAINT THERESA
05.
TREASURY
06.
CHAPEL OF THE IMMACULATE CONCEPTION
07.
CHAPEL OF OUR LADY OF THE REMEDIES
08.
AMBULATORY
09.
MAIN CHAPEL OR PRESBYTERY
10.
CHAPEL OF THE LORD OF THE COLUMN
11.
CHAPEL OF OUR LADY OF CANDELARIA
12.
CHOIR
13.
CHAPEL OF SAINT JOSEPH
14.
BAPTISMAL CHAPEL
The new cultural visit
Information pamphlet with the new Tourism-Cultural Visit of the Cathedral of La Laguna.
Audioguía
/ Audioguide
The entrance prince includes the FREE use of the audio guide available in 5 languages.